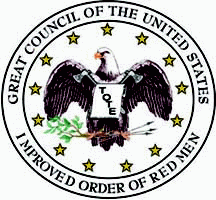 America's Oldest
Fraternal Organization
Chartered by Congress
---
Freedom * Friendship * Charity
---
Welcome.
The Improved Order of Red Men is a non-profit fraternal organization devoted to inspiring a greater love for the United States of America and the principles of American liberty. Along with our women's auxiliary, the Degree of Pocahontas, we support various charitable, youth, and educational programs.
The Texas Redmen Foundation, Inc. maintains the Red Men Museum and Library. It is the national museum for the Improved Order of Red Men (IORM) and the Degree of Pocahontas (D of P) and contains reference materials, archival holdings, and exhibits of historical significance. The Museum and Library is open to the public without cost. You are invited to stop by and look around if you are visiting in the area.
The state office of the Great Council of Texas (GCTX) is also located here.
We hope you enjoy your visit with us here on the web and we welcome any comments or questions.
4521 Speight Ave., Waco, TX 76711
phone: 254-756-1221 ~ fax: 254-756-4828
email: info@redmen.org